REFLECTIVE THREAD
Art. 442 Light up your designs! This new surprise effect thread reflects light in the dark. Use it to play with the visibility of machine embroideries on clothes or accessories. Suitable for designs digitalised for 35 or 40 weight threads.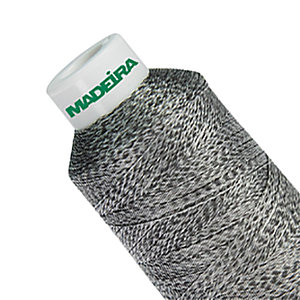 Reflect
500 m Art. 442
75% polyester, 25% polyamide
REFLECT can be embroidered with designs digitized for 35 or 40-weight threads.
Because of the structure of the surface the weight of the thread might vary slightly, therefore the design should be
tested in advance.
This new single-colour thread reflects light in the dark and adds a surprise effect and sparkle to every piece of embroidery. Its special structure consists of a polyester core around which a polyamide foil with glass beads is wrapped. Reflect is durable and easy to process on industrial embroidery machines by using standard needle sizes. A great way to light up your designs and logos. Download the .DST file below and see it for yourself.
For best sewing results we recommend the use of needle 90/14; 80/12 (special needle with 90 eye) or 75/11