9380 COTONA 80 200M
Art. 9380 extra fine for detail and letters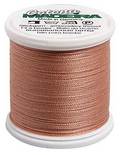 200 m (220 yds) Art. 9380
100% double mercerised cotton

The world's finest 100% cotton embroidery and sewing thread widely used for heirloom sewing and monogramming on ties and handkerchiefs. The best quality thread you can get for intricate creations and extremely fine sewing on delicate fabric.

Cotton no. 80 is the perfect cotton thread professionals choose for their home sewing and embroidery machine.
For best results we recommend the use: Universal needle art. no. 9540 to applique and embroidery or art. No. 9454 to quilting needle.
Bobbin thread fine no. 80 art. no. 9769