9844 HEAVY METAL 30 200M
Art. 9844 for deco and filling large areas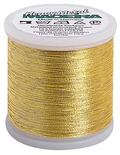 Heavy metal no.

30
200 m (220 yds) Art. 9844 50% Polyester - 50% Polyester metallised
A 30 weight embroidery thread for the toughest tasks. Fills in faster, looks richer and is perfect for sewing jeans, sports and work wear, canvas, shoes, leather and other fabrics where strength and abrasion resistance are important.
Heavy metal can be washed at the highest temperatures and is resistant to chlorine and bleaching without losing its luster.
Heavy Metal is the perfect resistant metallic thread professionals choose for their home sewing and embroidery machine.
For best results we recommend the use: Metallic needles 90#14 art. no. 9451 and bobbin thread universal no. 70 art. no. 9764