9306 DECORA 6 MULTI 100M
Thicker gauge viscose thread, multicolour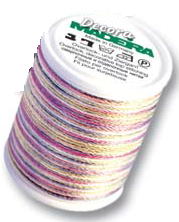 Decora No. 6
100 m (110 yds) Art. 9306
100 % viscose filament

The extra brilliant heavy weight Decora thread made from high quality Bemberg Viscose adds special lustre to your creations.

As a thicker thread, Decora does not pass through standard needles. Its sublime qualities shine on decorative overlock hems and the smooth running through the loopers of an overlocker results in a silken and distinctive sheen.
Decora is perfect for bobbin work and the brilliant choice for couching and all types of decorative stitching.

The possibilities for creative expression and innovative designs are endless with the wonderful multicolour combinations of this thread performing magic on seams, hems and edges with exciting colour changes within one shade of colour. Or blend with Decora single colours or any MADEIRA's fascinating creative threads.
The Overlock Inspiration threads are not guided through the machine needle, but instead handled with the loopers of the overlock and coverlock machines, or from the reel in the case of sewing machines. For coverlock and machine decorative seams, the material is always embroidered from the left, as the machine produces the seam on the underside.

10 multicolour shades
Decora colour card
Oeko-Tex Certification