9809 METALLIC 12 40M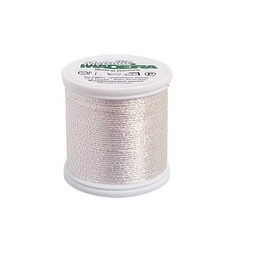 Metallic No. 12
40 m (44 yds) Art. 9809
70 % Viskose – 29 % metallised Polyester – 1 % silver

With pure silver included in the Metallic thread it is one of the most precious and most valuable metallic threads by MADEIRA. An excellent divisible strong metallic thread, perfect for traditional gold work using satin stitch, French knot, stem or cross stitch. Use as one thread, or divide into 3 separate strands and try No. 12 for filigree ornamental seaming and highlighting. It is strong enough for hand quilting, lace and decorative machine quilting.