9808 METALLIC 8 20M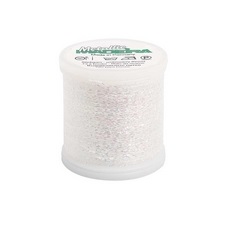 Metallic No. 8
20 m (22 yds) Art. 9808
30 % Polyamid – 70 % metallised Polyester

Give your clothes an original, fashionable personal touch with this fine flat braid effect Metallic No. 8 thread. Or use for ornamental and festive season decorations. It is fabulous for stitching on to Aida or Hardanger or even organza and excellent for masking stab stitches or seams, canvas work, free stitching, couching or crochet. Look out for the beautiful opalescent white and four more stunning shades of gold and one shade of silver.