9812 METALLIC 20 50M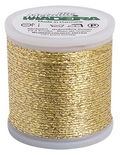 Metallic No. 20
50 m (55 yds) Art. 9812
45 % Polyamid – 55 % metallised Polyester

Metallic No. 20 is a super soft single ply metallic ribbon thread, ideal for cross stitch and crafts. Perfect for combining with MADEIRA stranded cotton, from single to six ply. Its smoothness works beautifully with two or three strands of MADEIRA SILK and is wonderful to work with on all fabrics. Use for everything from embroidery to wrapping gifts and excellent for canvas work, knitting and crochet.
Gold & Silver
Metallic colour card
Oeko-Tex Certification