9304 COTONA 4 MULTI 100M
Thicker gauge cotton thread, multicolor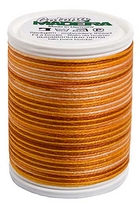 COTONA No. 4
100 m Art. 9304 (110 yds)
100 % cotton mercerized

Cotona No. 4 is made from the famous premium quality 'Ghiza' cotton with a matt finish to create elegant and distinctive overlock impressions or a unique thick and dramatic effect on machine or hand embroidery and crochet..

Cotona No. 4 produces decorative overlock edge hems of a soft, warm and natural look. Cotona No. 4 is heavy so does not go through the eye of a normal machine needle for standard top stitching. Instead it runs smoothly through the loopers of an overlocker or coverstitch machine, is perfect for bobbin work and performs exceptionally well for couching and all these astonishing decorative stitch techniques.

The possibilities for creative expression and innovative designs are endless, with the wonderful multicolour combinations of Cotona No. 4 performing magic when alternated with Decora No. 6 and Glamour No. 8. Or combine a multicolour shade of Cotona No. 4 with a matching single colour and create exciting variations within one design.

Hand embroidery and crochet look amazing with Cotona No. 4 bringing the designs to life.