POLYNEON, AEROSTITCH & FROSTED MATT
Embroidery & quilting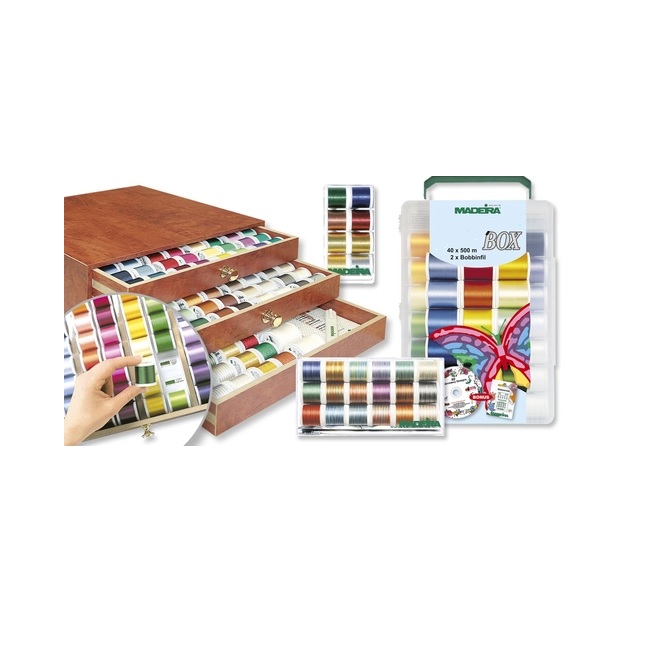 Polyneon No. 40
100 % Polyester

Polyneon is your first choice when you need a resistant thread for embroideries on frequently washed textiles. A strong thread perfect for machine embroidery, quilting, decorative stitching and appliqué. Polyneon colours remain brilliant even after repeated exposure to sunlight, chlorine and washing and add a radiant burst of colour to sports and active wear. The durability and strength of Polyneon resist abrasion and make it the ideal thread for hotel linen as well as safety and workwear garments.

160 single colours


Aerostitch
100 % polyester core spun

Matt finish embroidery thread. Highly colourfast & light resistant, perfect for outdoor wear & frequent or heavy duty washing. Can also be used for sewing, overlocking and decorative stitching.
Frosted Matt No. 40
100 % polyester

World's first truly matt and light-fast embroidery thread brings a new sensation to the perception of colours and new highs to light fastness. Due to the unique onstruction and special finish, this embroidery thread intensively reflects the true colours.
Frosted Matt is produced using exclusive dyeing methods resulting in an unmatched overall light fastness rating. The colour remains, and do not fade easily like other threads on the market.
For best results we recommend the use of the MADEIRA universal embroidery needle 75-80 and the fine MADEIRA underthread Bobbinfil No. 70.