FS 45 5000M
Art. 997
FS No. 45
5000 m Art. 997
75% polyester 25% metallised polyester
Metallic look and sensational appearance - 4 metallic effect threads specially designed for use on sewing and special machines. These threads of 3 or 5 ply, show an extreme tensile strength and offer a completely new look. The stylish colours range from bright white diamond to mysterious graphite.
Art. No. 997 Reduced metallised wrapping produces a slightly finer thread than the FS 40. For fashion and decorative stitching including promotional items and badges.
Available in 26 colours
For best sewing results we recommend the use of needle size #90/14 (80/12 needle with a size 90 eye)
Note:
The colours shown here are not originals. The colours and colour numbers in the colour cards are decisive.
Care instructions: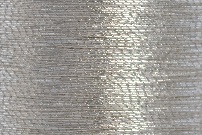 FS METALLIC No. 45 5000M SILVER
Article No.

9974500

Colour

silver